Scales...A Girls Best Friend?
Weird, right? I am kinda obsessed with them right now. I think they make the cutest little kitchen accent. The older and rustier the better in my opinion.
Sometimes you can find them in really bright colors...love those too.
Remember the fabulous store in Irvington, VA I was telling you about called The Farm? Well, I came so close to buying a vintage scale there. The kicker...it was CORAL in color. Adorable!
So cool! I kept circling back around to look at it again and again, but eventually left without it. I am holding out for green. Little green scale I know you are out there somewhere!
Junk In
the Trunk...
Literally! Trunks are great for storage, but who knew they could be a fabulous decorative accent as well? I am kinda obsessed with them right now...and not just trunks, but vintage luggage too.
I love a large trunk at the foot of the bed. It instantly adds character to a room. Also, it can function as a footboard and complete a bed set.
I purchased the trunk at the foot of my bed from a really cool local flea market. It has the quote "It means to awake at first light with a face full of sun" stenciled on the lid and side, and is lined in a really pretty canvas sailcloth. Not only is it an adorable accent, but also is perfect for storing winter blankets.
Vintage luggage in various colors and sizes can be stacked to make a side table.
Or, just add a piece or two under a table or on top of an armoire...instant character builder.
I have been on the lookout for a vintage suitcase and finally found one at a consignment shop for a great price. I am still hunting for a few more so I can stack them on top of the armoire in our living room.
I love a good collection, and right now vintage luggage is topping the list!
Deer Season Is NOW...
I've never been a hunter....not even close. I used to beg my dad to throw the fish he caught back into the water, and I secretly felt pity for the minnows he used to bait his hook. So, it is a little surprising that I can not get enough cast deer heads (FAUX, of course), horns, and antlers used as a decorative accent. And the great news is that most of these accents are made of resin...whew, PETA would be proud!
Something about this is just cool, and gives an ever so subtle touch of masculinity and outdoorsiness (not a word, but you know what I mean)
to a room.
I love this dining room! It is from one of my favorite blogs -
A Little Glass Box
. If you get a chance check out her adorable home. This room
has a little of the rustic feel that I love with the farmhouse table and
white lacquer deer head,
but the curvy chandelier, luxe gold wallpaper, and gorgeous armoire keep it from looking too hunt lodge. Perfection!
And, check out her son's nursery! Wow! She painted the white deer head silver to add a little glamor...I love how it blends well with the chic black walls and crystal chandelier.
Okay, drool...this
antler chandelier
is definitely a splurge from Restoration Hardware, but doesn't it make such an impact! I like that it is hung a bit on the low side too...it adds a coziness to the room....hot chocolate anyone?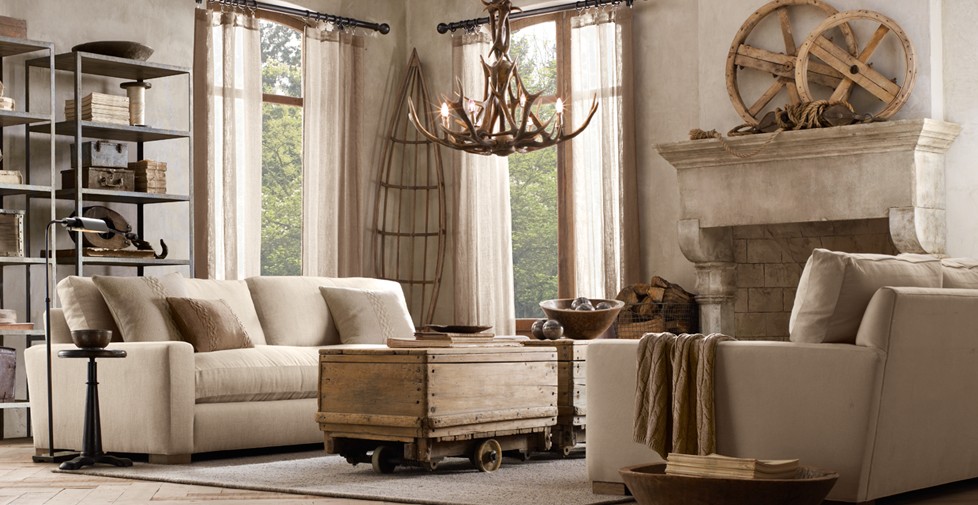 I have started an antler collection of my own. So far I have two sets. One set I got off Etsy and the other from one of my favorite consignments shops -
Rooms Blooms and More
...my goal is to eventually have enough to create a little ensemble that looks like this without trading my peep-toes in for Wellies:)
I Heart Ikat
I just can't get enough of the boldness of ikat right now! Isn't it gorgeous! This print comes in an array of colors and patterns, some soft and subdue and others wild and bold. I am thinking of adding a little ikat to my life...I am really loving it in the china blue.
Surprisingly, this fabric is extremely versatile! Although the pattern is more contemporary, it merges very well in almost any style home. For example, the first photo shows a classic French settee upholstered in ikat...an instant fix for what could be too formal and fussy! Then look at the second photo. Ikat mixed in with a rustic farmhouse. See how well it also pairs with distressed furniture and burlap panels. I promise, it is easier to introduce to your home than you may think.
If an upholstered chair in ikat is just a bit too much of a contemporary commitment, maybe just try just a couple of pillows first...I think you might be surprised how quickly ikat will grow on you when it gives your room an instant fresh update.
Target never lets me down! Speaking of china blue, have you seen their entire
blue and white collection
? Wow! If you want to slowly ease into the ikat world, maybe a few of these pieces from Target are your best bet! So fresh and pretty for the summer...here is a sneak peek...